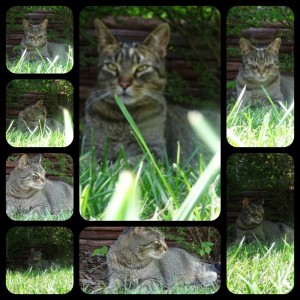 I have spent three plus weeks trying to nurse back to health the most amazing kitty in the world, Chester. He went to kitty heaven, with the largest pair of kitty angel wings you could ever imagine, at 4:39 a.m. this morning. He is honestly the only kitty who could keep me from my morning gym date at 5:30, which, because of his weakening condition, he has taken full advantage of recently. (-;
This part of Chester's short life has been so sad for me, yet so joyful all at the same time. His lungs were full of fluid and nobody knew exactly why. He had the hardest time pulling breaths after his vet visit yesterday, so it was a tortuous day all day and through the night. He was given some medication to help him breathe more easily yesterday morning, but I think it had the opposite effect. Chester couldn't lie down because it constricted his lungs so, when it got really hard to breathe, he sat up tall and straight (with perfect posture) for over 9 hours. My daughter Lynnette and I held his little paws up when he was too tired – so he would take our help for a bit and then go at it again. I can't even hold a plank for a minute without sweat dripping off my face.  Chester wanted to live so badly!
Here's a little history on Chester. I adopted this three year old knowing he had a heart murmur almost 2 years ago to the day, along with his 6 month old buddy Charlie. I think they knew at the shelter that Chester had more than a heart murmur when I adopted him, but were afraid to tell me – in case I would say no to adopting him. Maybe they would have been right. If that is the case, I am very grateful to them for duping me because I had the honor of having one of the best friends ever. Chester followed me around like a puppy dog, loved me unconditionally and was the most lap(iest) lap kitty of the lap kitties. Even if I didn't want him on my lap, he was there and I couldn't resist – so he stayed (-:
Every day when I took my 20 minutes of sun, he was purring around me, walking on my face or manuscript, playfully biting me or laying on my back, chest or lap, whichever was available to him.  He loved to be a part of my photography as seen by my 1 year Kombucha brewing celebration.
As I wrote my first book, Chester walked all over my computer and deleted paragraphs, brought up windows and closed windows, including sometimes losing a sentence here or there by deleting it. He had a paw in every part and he had magic paws. Because of his antics, I learned more about what my computer could do than I ever thought possible. Who knew you could delete or add all kinds of characters and turn off the computer without saving your work by simply taking one casual four paw stroll over the keyboard?
Chester and I had hours and hours before he died to have long conversations. And his buddy Charlie sat close by keeping vigil as we conversed, mewling a little here and there to let Chester know he was right there.
Me, knowing deep down that Chester wasn't going to make it before the vet opened the doors this morning, reminisced about all the gifts he brought to my life with him. We talked about our beginning together, God and heaven, and everything in between including the vet visit yesterday morning – which he quietly endured.
Chester is a cat like none I have ever had and while I loved him at the beginning, he turned out to have a mind of his own. This started me questioning whether or not I had made a good decision bringing him home.  The reason is because after the two of them had their week or two in the closed bedroom (to get used to their new environment and the other cat's smell), Chester started cat attacks on our other cat, Smoke. Once the door to the bedroom was open, Chester decided that it would be fun to run after Smoke and they would have little tiffs. But then he taught Charlie how to terrorize Smoke. I used to get so mad at him because Charlie was such a lover, but with his big brother's guidance, he began to think that hunting and terrorizing Smoke was all fun and games. Smoke is another story. I figured she would hold her own but she would just get prissy and hiss like mad. Chester and Smoke would get in cat fights – I swear Chester was just bored and loved to see her react to him. So we all had a rocky start. But through it all, he chose me as his person, and loved me in spite of my getting bugged with him.
Chester was an extreme lover and a gifted teacher. He loved Charlie and you could always find them spooning together.
He loved to dry hump Charlie and he taught our female Havanese, IBMiel, the same trick. Charlie was always getting humped, by two fixed animals, a male and a female – the funniest thing. Chester would jump up and sleep in my face, blocking my air and I would get claustrophobic and kick him off the bed. But he would always come right back – he became a fixture in the crook of my arm and always on my lap. And he loved to be right in the middle of things so when anybody came around, he had to be part of the visit. He acted like a dog in so many ways, including going to the bathroom in IB's spot!  But the funnest thing of all is as soon as I got home he would come running from wherever in the house he was, along with IB, to greet me! It was a joyfest to come home every day from the gym or wherever else knowing the greetings would be amazing!! I always felt so loved, missed and cherished.
I am going to miss my kitty. The worst part of this whole experience is that I have learned so much about health and healing, yet was able to do virtually nothing for him healthwise. All I could do was to coax bits of nourishment and love him unconditionally, just as he loved me. That feels like so little compared to what he gave to me.
Chester Mester, this house feels so empty without you and the backyard sun and the greenhouse strolls are just not the same. I sat outside on the grass a little bit ago and just cried missing your presence and the fun times we've had out there.  I feel a deep hole in my heart and already miss you terribly – and it's only been hours. You gave me a second chance for closure when Tiggerbutt died – and I never even realized I was still hurting from his death. You were such a trooper and stayed loving until the very end. I am so sorry for your suffering and am so grateful you are no longer in that space. That you are with all of our departed loved friends, family and other pets over the years.
You taught me how to open my heart again after Tiggerbutt died when I thought I could never love another kitty so deeply. You were a troublemaker and an instigator and always had me laughing or loving you. You taught me how to love and care again, and you showed me what unconditional love is really all about. You never quit trying to make me love you until you broke me down.  I love you so much that my heart is breaking as I write this because, I know there will never be another Chester in my life.
Oh Chester Mester, I'll never forget you and the mischievousness you mixed in along with your unconditional love for me! You probably already know this but Charlie cried before we laid you to rest so I hope you'll send your mischievous spirit to visit him once in a while to keep him on his toes. Lynnette and Daddy miss you too. You are so missed already!
Te conozco mosco! Te amo mas que nada!
Mommy
Chester Mester Wennerstrom
Circa September 2009 – August 12, 2014
I'll see you again one day. Rest in peace